I wanted to take a moment to thank a few extremely talented bloggers for featuring me on their extremely beautiful blogs. I am absolutely, positively honored that they like my project/craft enough to share it with their readers. 
THANK YOU THANK YOU THANK YOU to Jen from Tatertots and Jello for featuring my hand-painted, PB inspired burlap flag pillow that I made for the 4th of July. 
Another BIG THANK YOU to Jen for featuring my July Wreath on her lovely blog also. You have NO IDEA how honored I am…I love Tatertots and Jello!
 Have you visited Tip Junkie before? If not, you must go check out this fantastic blog ASAP! So many tips and fun ideas/tutorials. Laurie featured the Super Cape and Mask in her Christmas in July series under Handmade Christmas Gift Ideas for Kids. HOW COOL!!! Thank you so much Laurie! Your blog is really inspiring.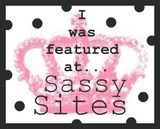 Sassy Sites also featured the Super Cool Cape and Mask. This blog is also full of great ideas and tons of featured blogs. THANK YOU Sassy Sites for featuring me!!
How neat is that?!?! I am absolutely flattered…and now even more inspired and motivated to get crafting!! :)