There are a million ways to cook chicken and potatoes. 
I am going to share an easy go-to meal you can put together during a busy week. 
-1 boneless, skinless chicken breast per person
-bottle of your favorite marinade (I used garlic & herb)
1. Put chicken breasts and marinade in zip lock baggie and leave in refrigerator for the day.
2. Cook chicken stove top on medium until done (I added about 1-1 1/2 cups of marinade in pan).
3. Clean and cut potatoes into chunks. 
4. Blanch potatoes on stove top (cook potatoes in boiling water until soft).
5. Remove potatoes from water and place on baking sheet (spray baking sheet with cooking spray). 
6. Season potatoes with butter, salt, pepper, and garlic to taste.
7. Bake at 400 degrees for about 15-20 min. Broil at the end to brown potatoes. 
*I used my toaster oven to bake our potatoes!
8. Serve chicken and potatoes and enjoy!!
An easy, healthy, satisfying meal for your family. 

I love using marinade….the chicken is so moist and the cooking process is so much faster. 
I would LOVE to feature one of your family favorite recipes on MFTM's Food-a-licious Friday! Meals, sides, snacks, desserts! Please email me at mineforthemaking(at)gmail(dot)com if you are interested : )
I also want to give a

shout out

to my lovely

♥

sponsors

♥

!
GO check them out!! I promise you, you will be so glad you did.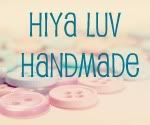 Have a wonderful weekend friends!!!