Happy Spring Fling! I'm so excited Kara invited me to be here today. I'm Amie, and I have my own little corner of the internet called Kitty Cats and Airplanes.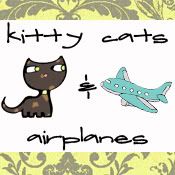 When I graduated college I suddenly found free time on my hands, so I rekindled my life long love for arts and crafts. Too bad since then I've gotten a job! Luckily the hubs is ok with my addiction. :)
 Whilst visiting KC&A, you can expect to a lot of craziness, I've got serious crafting ADD! I'm always trying something new.
Decorate my home (button frame)
But my favorite thing to make is jewelry. (Button bracelet) I sell my jewelry on both Etsy and whoopdwhoop.
I also post tutorials every Tuesday, recipes every Friday, and a ton of other fun crafty things.
Now I don't know about you, but when I think spring, the first thing I think of is flowers. Big, bright, beautiful bouquets of flowers. (Say that five times fast!) So with the theme of Spring Fling, I knew I had to do something with a floral inspiration. Then I threw in a few of my favorite things: jewelry, lace, and pearls! I ended up with….
 These pretty earrings! I think they are just perfect for spring. Light, floral, and romantic. Want to make a pair of your own?
You will need:
Non fraying lace with a floral design
Embroidery scissors
Two eye pins
Two freshwater pearls
Two ear wires
Two jump rings
Round nose pliers
Got it?
Start by cutting out the flowers from your lace. You'll need four. Use embroidery scissors if there is small detail.
Admire them and think about your springy earrings.
Next, thread a pearl onto an eyepin.
Bend the eye pin over at a 90 degree angle.
Make loop using the round nose pliers. (Need help? Check out my tutorial here.)
Snip off the excess wire. Set it aside.
Open up one of the jump rings by twisting it open, not pulling it apart.
Thread the pretty flower and the ear wire in the open jump ring. Twist it back together.
Remember that pearly piece? Open one end and attach it to the bottom of the flower. Attach another flower to the other end of pearly piece and twist it closed.
Do it all over again and you've got yourself a pair springy earrings!
Dig through your lace stash again and make another pair. Do it again, because this it totally addicting.
Happy spring! Thanks for having me Kara. :)