I am so excited to be a part of the bloggy baby shower for Mandy over at
Mandipity
!
Feel free to join in over at
Hiya Luv
and check out all the link-ups for Mandy.
Thanks to Gina and Rachel for the invite!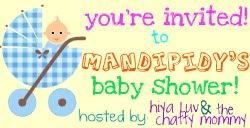 I knew I couldn't miss out on an opportunity to show my <3 for Mandy and her sweet blog....
I mean, Mandipity is one of the first blogs I fell in love with not to mention the countless times Mandy answered my questions about blogging, inspired me with her creativity, or taught me something new (crafting and even spiritually). Mandy was one of my first bloggy friends : )
So Mandy, I want to congratulate you on becoming a mommy and welcome you into the world of all things girly! 
 Let me tell you…girls are SO FUN ♥
Thanks for being such a great bloggy friend Mandy! I cannot wait to "meet" your adorable Abigail. Being a mommy is the greatest gift in the entire world.