Yes, I know. Everyone is in love with Chevron and owls at the moment.
I'm afraid I am no different. 
Amie over at
Kitty Cats & Airplanes
inspired me to rummage around in my scrap felt and come up with a project to share with her readers for her upcoming craft competition called
3…2…1…Craft
!
Did you hear that I am guest judging this round? Pretty cool, right? 
Anyway, I love making hair clips for my daughter, so I decided to make her Felt Owl Clips!
LOVE how easy they were and how cute they turned out. Would you like to make some? Okay here is what you will need:
-scrap felt (I used 3 colors- 1 for the body, 1 for the beak, and 1 for the wings)
-embroidery floss & needle
-hot glue & gun
-2 buttons for eyes
-scissors
-pencil
-card stock (for stencil/pattern)
-ribbon 
-hair clip
First, you want to draw your owl body and wing pattern on the card stock. I drew half of the owl, then folded it down the middle and cut so that it was symmetrical. The owl body is about 2in x 2in. I only made one wing and flipped it over when I needed to cut out the 2nd wing. Then cut out your owl body and wing and you have your stencil/pattern.
Next you want to pin your stencil/patter to your felt and cut out your pieces. Make sure you cut 2 bodies and 2 wings (remembering to flip over your wing pattern for the 2nd wing). 
Then you are going to hot glue your wings and beak on to one owl body and using your embroidery floss and needle, stitch the button eyes on and decoratively stitch the beak and wings. Notice I made upside down "v" on the wings to make them look more like feathers.
Once you are finished stitching, you are going to hot glue the 2nd owl body onto the back of the 1st owl body to hide your knots of embroidery floss. 
Cover your hair clip with ribbon and hot glue it to the back of your felt owl.
Done! Now that you figured out how easy they are, you can make more!
The great thing about these adorable felt owls is that they are so versatile! You can do whatever color combos you want AND they don't necessarily have to be hair clips! Hot glue them to a magnet, key chain, headband, pin, or a loop of ribbon to hang on the Christmas tree…
There I go again referencing Christmas gift ideas in the middle of August. 
So what do you think? Are you a lover of all things owls? 
Make sure you head over to
Kitty Cats and Airplanes
tomorrow to link up your felt projects. The linky party will be open for a week, so do not fret! You have plenty of time to finish your project!
Also, just a little friendly (and excited) reminder about the new
DIY Diva Thursdays
linky party! I hope to see you there!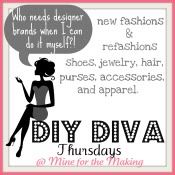 ***
Linking up!
Tatertots and Jello
Simple Daisy
I Heart Naptime