It's the first of December! That means only 25 days until Christmas!
Do you have your tree up and house decorated?
Have you finished and wrapped your gifts?
We are still working on all of the above, but we still have time, right? : )
Today I am sharing the Christmas Countdown Wreath I made. We love counting down for special occasions and holidays, so I thought I would make a countdown wreath to get us ready for Christmas!
-small wreath form (Dollar Tree for $1)
-yarn
-ribbon
-foam or wooden snowflake (Dollar Tree for $1 per package)
-jingle bell (Dollar Tree for $1 per package)
-hot glue and gun
-scissors 
-small picture frame (Michael's for $1)
-chalkboard spray paint 
1. Take out the paper and plastic inserts of your small frame so that just the frame and cardboard back are left. Take off the frame and spray the cardboard back with chalkboard paint. 
2. While you are waiting for your frame to dry, wrap your wreath form with yarn, being sure to secure both ends of the yarn with hot glue.
3. Wrap a piece of ribbon over the top of your yarn wrapped wreath. Secure with hot glue.
4. Using ribbon and hot glue, secure the chalkboard frame so that it hangs in the center of the wreath.
5. Embellish your wreath with the snowflake, jingle bell, and more ribbon.
6. Hot glue a loop or ribbon to the top of your wreath.
7. Using chalk, write down how many days until Christmas.
8. Hang your wreath and admire. 
What do you think? Pretty cute, right?
My daughter LOVES it and cannot wait for me to change the frame to say "24." 
Have you made any new wreaths this holiday season? I need to make a new one for my door still.
I'd love for you to head over to
The Scrap Shoppe
to check out a DIY Christmas gift I am sharing!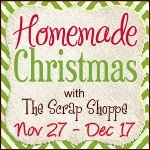 Linking up here…