This shop has been compensated by Collective Bias, Inc. and its advertiser. All opinionsare mine alone. #OwnWhatYouEat #CollectiveBias
Hello friends. My year is already off to such a great start. While goal setting and planning for the year, I choose a word to focus on. Something that will help me to grow as a person and be a better mom, wife, and friend. I try to dig deep and find what it is that my soul needs so that I can be those things. I really want to take charge and "own it" this year, so the word that I picked is 'intentional' which means 'to do with intention or on purpose…deliberate." I want to live everyday with intention.
I did some reading and soul searching over the word 'intentional' and came up with a few tips for intentional living. I broke it down so that I won't be overwhelmed…change is hard for me, but often times so necessary for growth.
Be Present
Wherever I am, whatever I am doing, I want to be present in the moment. I want to take it all in and enjoy it rather than thinking about what's coming next or multitasking twenty-five other things. The laundry can wait. The dirty dishes will still be there to clean later. Enjoy this season. Time is so fleeting.
Plan Your Priorities
"Plan your priorities, don't prioritize your plans." I read that quote on Pinterest and had an moment of realization. Each morning I am going to start out with a good breakfast and plan out my day while focusing in on a few main priorities (it's okay to say NO to things or activities!). I'll probably turn on some good music, open the curtains, and talk about the day's plans with my sidekick while enjoying breakfast together. And lucky for me, I don't have to spend too much time making the breakfast… thanks to Kellogg Special K® food and snacks for fueling our busy mornings. Less time making breakfast equals more time spent planning our priorities together.
Healthy Choices, Healthy Thoughts
I want to be intentional with my choices and thoughts. From the food I eat to physical activity to self talk… I want to be intentional with it all. While planning out our day or week, I will be consistently meal planning and making sure that I have exercise and mediation on our agenda. Diets are out, confidence is in and that's what I want to model for my daughter.
The Special K® Nourish line has wholesome ingredients so you can feel confident giving your body what it needs. Having easy solutions for breakfasts (and snacks!) makes meal planning that much easier. Some of my very favorites are Special K® Chocolate Delight Cereal, Special K® Nourish Coconut Cranberry Almond Cereal, Special K® Fruit and Yogurt, Special K® Sausage Crustless Quiche, and Special K® Sausage, Egg & Cheese Sandwich.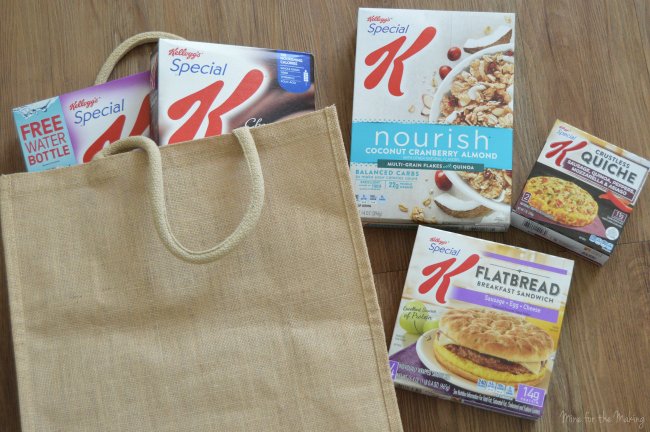 Want to have a smoother running morning so you can live with intention too? Hover over the picture above to shop the products! From 12/31/17 – 1/27/18: Get 10% OFF select Special K® Quiche and Handhelds at Target. If you shop in store, be sure to pull up your Target Cartwheel app!
From 11/1/17 – 6/1/18: Get a free Swell water bottle with an empowerment message on it via Kellogg Family Rewards when you purchase any combination of three (3) participating Kellogg® Special K® products between 11/1/17 and 6/1/18. Receipts must be submitted by 7/1/18. Click here to learn more about the Kellogg Family Rewards offer for a free Swell water bottle with purchase of three Special K® products!
I'm going to live less out of habit and more out of intent. I'm going to be present, plan my priorities, and have healthy choices and thoughts. This year holds so much potential and I'm looking forward to being intentional.
How do you live an intentional life? I would love to hear your tips!
SaveSave
SaveSave
SaveSave
SaveSave
SaveSave